Booting a couple of good punts at the right time changed the trajectory of Alex Pechin's life forever.
In the summer of 2014, Pechin was a rising high school senior hoping to play either football or baseball at the collegiate level. In football, he was an athletic, dual-threat quarterback who also kicked and punted when called upon. In baseball, he was a hard-throwing pitcher and rangy outfielder who had surprising power for a contact hitter. Still uncertain which sport he wanted to dedicate his college years to, he attended camps for both at schools from the Division I to Division III levels.

The Kennett Square, Pennsylvania native earned an invite to a Bucknell football camp on the strength of his performance at a showcase in Delaware. After spending a hot July morning on the Christy Mathewson-Memorial Stadium turf taking reps with the quarterbacks, he moved out to the grass practice field to punt.

"The coaches walked out and saw me hit a couple of good balls," Pechin reflected, with a chuckle. "Then, they walked back into the stadium, and I shanked a couple. It was really funny, actually. I happened to have a couple of good punts at the right time, and that's how they saw me."

A scholarship offer soon followed, and Pechin seized the opportunity. While he never thought of himself as a punter, he knew that he wanted to compete at the Division I level. Not only that, Bucknell was exactly what he was looking for in a school: an elite academic institution with a top-ranked engineering program.

"I thought it was a once-in-a-lifetime opportunity," Pechin said. "I was a little nervous about being a punter, but it turned out really well."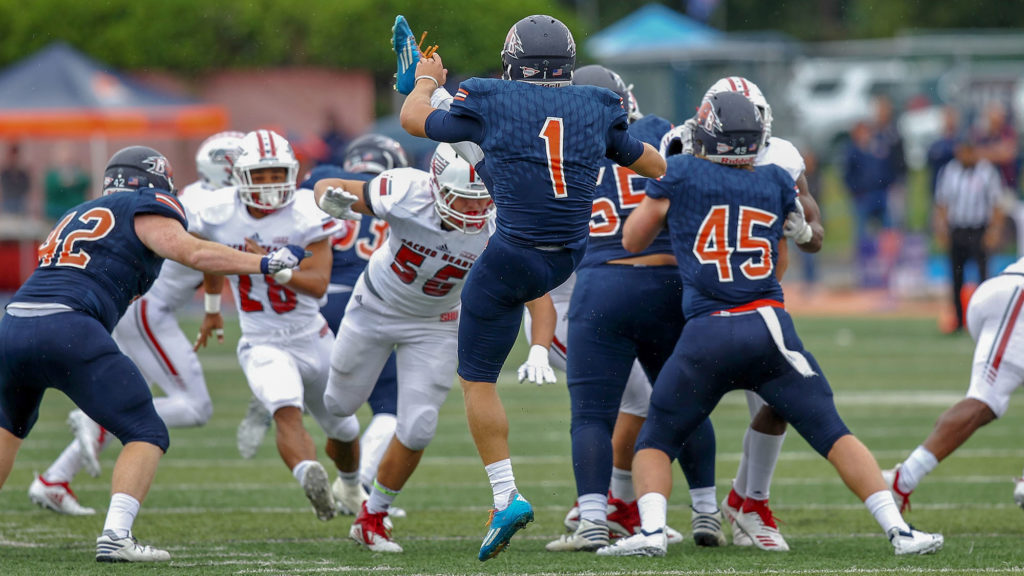 That it has. Over the course of his career, Pechin has cemented his status as one of the nation's elite punters. To date, he has been recognized on seven FCS All-America teams, most notably becoming the first Bison specialist to make an AFCA or AP squad following the 2018 campaign. He was also the only FCS punter named to the initial watch list for the 2020 Reese's Senior Bowl, one of the top senior showcases that attracts a battery of National Football League scouts.

A three-time All-Patriot League First Team honoree, Pechin has rewritten Bucknell's record book; he boasts the school record in career punting average (44.1) as well as the program's top-three single-season averages. He finished third in the FCS in punting average in 2017 (45.1) and fourth in 2018 (44.5); through this season's first three weeks, he is the FCS leader with a 50.3 punting average.  

When asked if he foresaw his success, Pechin laughed. No, he said, that 17-year-old high schooler shanking balls, luckily when the coaches weren't watching, couldn't have known that he would be an All-American five years later. And, no, he certainly couldn't have seen himself attracting NFL interest.

"I always thought that there's somebody I don't know from California or Texas who can kick the ball 75 yards," Pechin said. "I had no chance of knowing where I'd be today. It's a huge, but welcome, surprise. I still have a ton to learn, but how far I've come since the very beginning, when I knew almost nothing about punting, is huge. So many people have helped me, and I'm grateful to them. It's been an interesting ride."

For now, that ride will continue at Bucknell. After being granted a fifth year of eligibility due to an injury he suffered as a sophomore, Pechin has a chance to add to his already storied legacy this year. A masterful situational punter who can boot a 71-yard bomb and plant an Aussie punt on the one-yard line from midfield, he has consistently flipped the field in the Bison's favor since arriving in Lewisburg. But what has impressed first-year head coach Dave Cecchini the most about his returning All-American, only the 11th two-time captain in program history, is his leadership.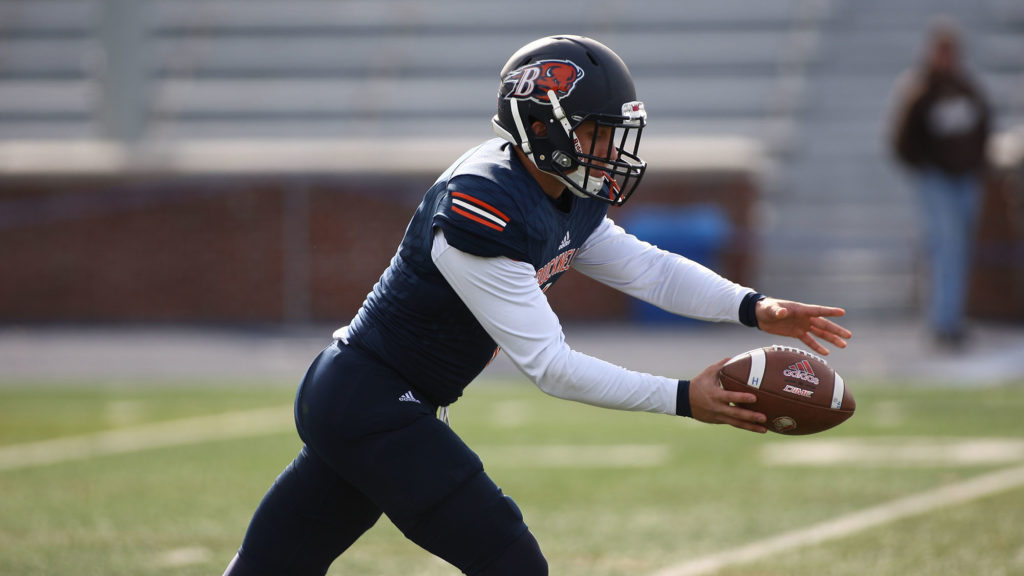 "He's such a great leader," Cecchini said. "I've never been around a team where the punter has been this highly regarded. To be voted as captain by your peers twice is a compliment in itself; to be voted as captain as a punter is remarkable. It's awesome to see his leadership, and, beyond that, he's just so talented. He can run. He can throw the football. He can do it all. He's an athlete. His leg strength is NFL caliber, and he has the mental toughness to go with all of his talent. And he's excellent in the classroom. He's everything you could hope and dream for as a coach. He truly has it all."

As successful as Pechin has been on the field, he has arguably been even more successful in the classroom. A Biomedical Engineering and Management for Engineers double major with a 3.90 grade point average in one of Bucknell's most rigorous programs, he has twice been named the Patriot League Football Scholar-Athlete of the Year. At the end of the 2018-19 school year, he became only the third football player to be honored as the Patriot League Male Scholar-Athlete of the Year. When asked how he has been able to juggle his athletic and academic responsibilities so effectively, Pechin was quick to credit the drive and work ethic instilled in him by his parents, Mike and Jacquie.

"I'm a big quote guy, and I've taken a quote from Star Wars to heart," Pechin said. "At one point in episode I, Qui-Gon Jinn tells Obi-Wan Kenobi: 'There's always a bigger fish.' No matter what you accomplish, there's always somebody doing it a little bit better than you. My parents have stressed that there's always room for improvement, no matter how well you're doing. That philosophy has carried me through my athletic and academic career. I'm always looking to get better."

Pechin is dedicated to using his remaining time at Bucknell to improve as both a punter and an engineer, all the while helping his teammates be the best that they can on the field and in the classroom. When asked what he plans to do after graduation, he said that he can't answer that question quite yet.
"I'm not going to put all of my eggs in one basket," Pechin said. "I definitely want to continue to play football. If that works out, amazing. I'd love to have an opportunity to have a career in the NFL. But, if it doesn't, I'll have the opportunity to use my biomedical engineering degree to help people who really need it. Obviously, I want to play in the NFL a little bit more at this point, but I think both opportunities are great. I'm excited to see where either one takes me."

And, no matter which opportunity Pechin ends up pursuing, his commitment to excellence will likely lead him to continued success.